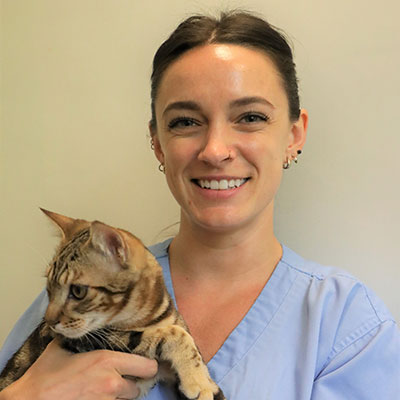 Dr. Natalie Tononi
Veterinary Surgeon
ACADEMIC QUALIFICATION
Bachelor of Science in Animal Science (BSc), Michigan State University, USA. Bachelor of Veterinary Medicine and Surgery (BVMS), University of Glasgow, UK
CAREER PATH
After graduation, I took a break and went travelling in Europe for a few months before moving back home to Michigan to work at a high volume small animal and exotic hospital. When my partner's job brought us to Hong Kong, I felt the SPCA was just the right fit for me.
VETERINARY INTERESTS
I have a strong interest in surgery, and a soft spot for our furry, feathered and scaly friends too!
REASONS FOR WORKING AT THE SPCA (HK)
I enjoy being a part of a large and diverse team so that I'm constantly challenged and always have someone to learn new tricks from. As a student I assisted in desexing programs with "Spay Panama" and "NicaVets" in Central America helping to humanely control the local stray dog and cat populations, so I'm very excited to be dipping my toes back into the welfare world, and help those that can't help themselves.
PETS
I have a gentle giant of an American Bulldog named Gizmo (35kg). My family and I rescued him as a senior dog in early 2020, but you'd never guess he's an old boy by the way he can chase his tail and zoom around the yard after an invigorating bath! Unfortunately, I had to make the difficult decision to leave him behind in Michigan with my parents who love sending daily updates!
INTERESTS
The great outdoors, hiking, scuba diving, reading, exploring new countries and cultures (especially their food), and spending time with family and friends.