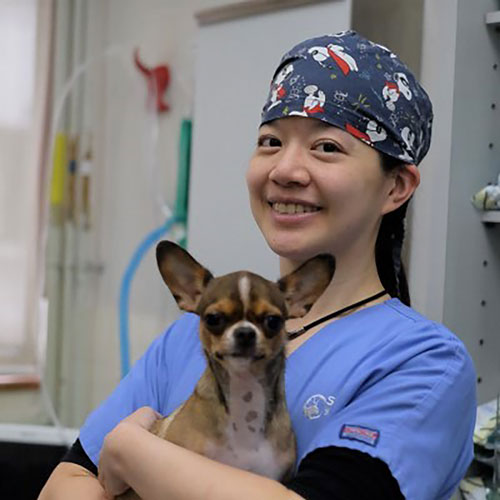 Dr. LU, SHIH-YIN
Veterinary Surgeon
ACADEMIC QUALIFICATION
Doctor of Veterinary Medicine, National Taiwan University.
CAREER PATH
I began my career as a "TNR" (trap, neuter and release) veterinary surgeon which I combined with working as a general practitioner in Taiwan. I also participated in a long-term welfare project providing medical treatment and surgery to stray animals in rural areas. As well as my passion for welfare work, I advanced my surgery, anaethesiology and cardiology skills through training in a small animal surgical centre and part-time work in a cardiology hospital.
VETERINARY INTERESTS
General surgery, internal medicine, emergency medicine and critical care
REASONS FOR WORKING AT THE SPCA (HK)
I have always admired the advances the SPCA has made in the animal welfare field over the past decade, and as such wanted to join the veterinary team. I am very honoured to be able to work with so many dedicated and passionate colleagues who share the same animal welfare beliefs as myself. These committed and devoted people make me believe together we can truly help in alleviating suffering and make the world a better place for animals.
PETS
An extremely active and naughty Belgian Malinois, "A Bo", who I adopted through a Taiwan animal rescue agency in 2021.
INTERESTS
I love sports, travelling, experiencing different cultures and trying all types of food.