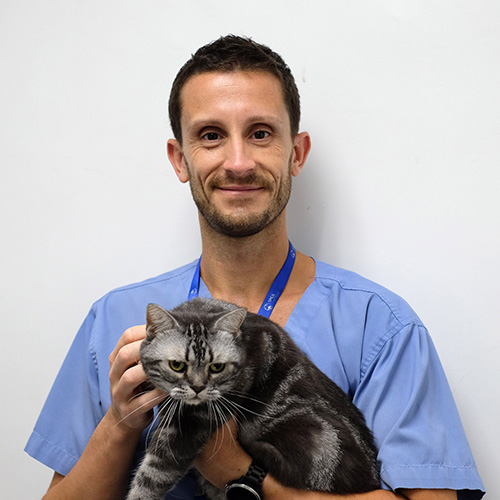 Dr. Enrico Pizzuti
Senior Veterinary Surgeon
ACADEMIC QUALIFICATIONS
Master of Veterinary Medicine (DrMedVet), Alma Mater Studiorum, University of Bologna, Italy & Member of the Royal College of Veterinary Surgeons (MRCVS), UK.
CAREER PATH
After qualifying as a veterinary surgeon in Italy I immediately relocated to the UK, where I started my first job as an intern at a large multi-disciplinary specialist hospital in Hertfordshire. I then moved to work in general practice in London, where I ended up leading a team of veterinary surgeons in a busy first opinion clinic. When I first moved to Hong Kong in January 2020, I was very lucky to be offered a position at the SPCA, where I worked for almost a year before returning to the UK to work in another large charity, the PDSA. Ever since leaving Hong Kong I have been missing it so much and at the first opportunity, after a career break, I decided to come back, this time for good! And what better place to come back to work than the SPCA!
VETERINARY INTERESTS
Soft tissue surgery and dentistry.
REASONS FOR WORKING AT THE SPCA (HK)
I thoroughly enjoy working in a large team of highly skilled and experienced veterinary surgeons and nurses, and being able to have in depth discussions about the huge variety of clinical cases that are presented to us on a daily basis. I also highly value being exposed to all aspects of veterinary medicine, including welfare and shelter medicine, which come with challenges but also great rewards. The amazing team, the great work ethics and above all, the love for all animals, big or small, makes the Hong Kong SPCA one of the best places in the world to be a vet!
PETS
Back in Wales, where my parents-in-law live, we have two very cuddly Cocker Spaniels, Harri and Dylan and two very stubborn pigmy goats, Elvis and Priscilla!
INTERESTS