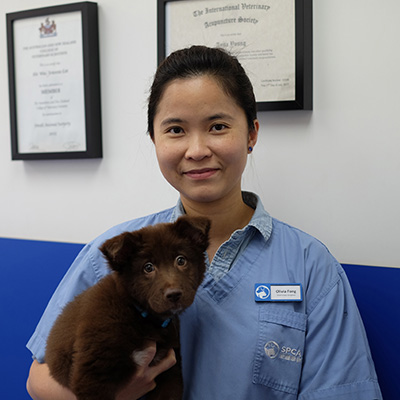 Dr. Olivia Fong
Senior Veterinary Surgeon
ACADEMIC QUALIFICATION
Bachelor of Veterinary Science (BVSc) (Hons), University of Queensland, Australia and Bachelor of Arts (BA) Psychology, University of Victoria, British Columbia, Canada.
CAREER PATH
After graduation, I spent six years working as a general practitioner in a private veterinary clinic in Australia. In addition for the past three years alongside my GP work, I was employed as a part-time emergency vet for an after-hour care/emergency centre. In September 2017 I decided to relocate back to Hong Kong and was very excited to be given the opportunity to join the SPCA family!
VETERINARY INTERESTS
Internal medicine, dermatology and diagnostic imaging.
REASONS FOR WORKING AT THE SPCA (HK)
I'm so pleased to be offered a position in SPCA where I am not only treating and helping our client's companion animals, but am also able to contribute my expertise and time to improving the welfare of abandoned and stray animals who need our care most of all.
PETS
No pets currently not after my first puppy "Pepper" passed away. But working at the SPCA I am sure I will be fostering and no doubt adopting another furry companion soon!
INTERESTS
Cooking, travelling and trying out the many different restaurants Hong Kong has to offer!