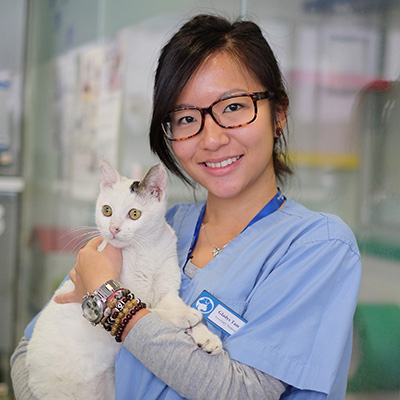 Dr. Gladys Tam
Veterinary Surgeon
ACADEMIC QUALIFICATION
Bachelor of Veterinary Science (BVSc), University of Sydney, Australia.
CAREER PATH
After graduation I worked for four years in a private clinic in Sydney which also offered a lot of welfare work. The spectrum of welfare work included first aid for stray animals, community services such as low cost desexing and wellness consultations. Outside of work I also volunteered my time to teach vet students and assist with providing community services such as free wellness consultations for pets owned by the less privileged people. During my university years, I actively participated in animal welfare activities, being vice president for the animal welfare society, and teaching kids about animal welfare with therapy dogs.
VETERINARY INTERESTS
Welfare work and emergency medicine.
REASONS FOR WORKING AT THE SPCA (HK)
Not a hard one to guess- welfare work! I'm a vet who likes to look at the bigger picture! I also enjoy the fast paced work the SPCA has to offer.
PETS
Two stray cats from Sydney – "Darcy" and "Vincent" (and yes they took an international flight to come to Hong Kong!)
INTERESTS
Zumba! I was a qualified Zumba instructor in Sydney. I also love cooking, I enjoy watching people eat what I have made…I am a feeder!