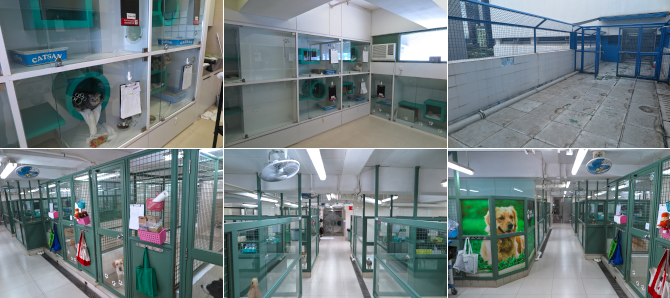 Our boarding service caters to both cats and dogs but is for members only. Our facilities are of the highest standard and make for a comfortable, hygienic and enjoyable stay. Most importantly, you will have peace of mind whilst you are away.
Key features:
In case of a minor illness or emergency, our highly-qualified veterinary team are onsite
Each pet has their own spacious and hygienic kennel that comes complete with air-conditioning, top-class ventilation and sound proofing
Your pet will have one-on-one exercise and play time with our staff every day, keeping them healthy and in good shape
We monitor every pet's food and water intake, toilet habits and demeanour on a daily basis so we can detect health issues quickly
The boarding fee is calculated per animal per day, which includes the day of arrival and departure.
| | |
| --- | --- |
| | Booking Fees |
| Cats | *HK$160 – HK$230 |
| Dogs under 10kg | HK$320 |
| Dogs over 10kg and under 25kg | HK$350 |
| Dogs over 25kg and under 40kg | HK$370 |
| Dogs over 40kg | HK$420 |
*Fees vary according to cage size and number of cats ($160, $180, $200 and $230)
To protect all our boarding animals, every pet must be fully vaccinated. We will also carry out a pre-boarding check for every animal over 10 years of age. For full details, please refer to our Boarding Terms and Conditions form.
For bookings and enquiries, please call 2232 5501. If you call out of office hours, please leave a message.
Please note that bookings cannot be made any earlier than the first day of the fourth preceding month.
For example, if you wanted your pet to stay with us from 15 July, the earliest date you should contact us is 1 April.