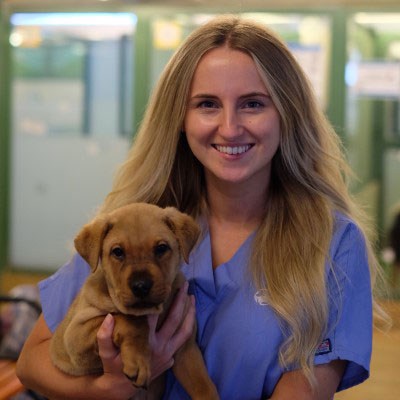 Dr. Becky Parry
Veterinary Surgeon
ACADEMIC QUALIFICATION
Bachelor of Science (BSC – Biology), University of Nottingham, UK.
Bachelor of Veterinary Medicine and Science (BVMSci), University of Surrey, UK.
CMI Level 5 Certificate in Leadership and Management (fCMgr), University of Surrey, UK.
Member of the Royal College of Veterinary Surgeons (MRCVS), UK.
CAREER PATH
After spending a few years living in Hong Kong as a child, I was eager to move back and flew out to Hong Kong soon after my graduation in Summer 2022. I've experienced a wide variety of veterinary environments, from specialist referral hospitals to charity practices, and worked for an American veterinary supplement company throughout university where I developed an interest in nutrition.
VETERINARY INTERESTS
I am enjoying all aspects of veterinary medicine so far and look forward to developing my interests in specific fields like neurology and surgery in the future.
REASONS FOR WORKING AT THE SPCA (HK)
I've always had a soft spot for charity work and working for the SPCA felt like a good way to bring this into my professional life. I believe that all animals should have access to high quality veterinary care regardless of where they come from, which would not be possible without organisations like the SPCA. Working at the SPCA allows me to help a wide range of patients with the support of a strong international team of vets to further my education.
PETS
Back in the UK I have a cat called Luna who is living with my parents while I am in Hong Kong. She is the boss of the household and likes to keep the rest of us in line!
INTERESTS
I love hiking and exploring on weekends.