The SPCA Presents "Dog Adoption Date"
Encouraging "Adopt, Don't Shop" and raising awareness about mongrels in celebration of World Animal Day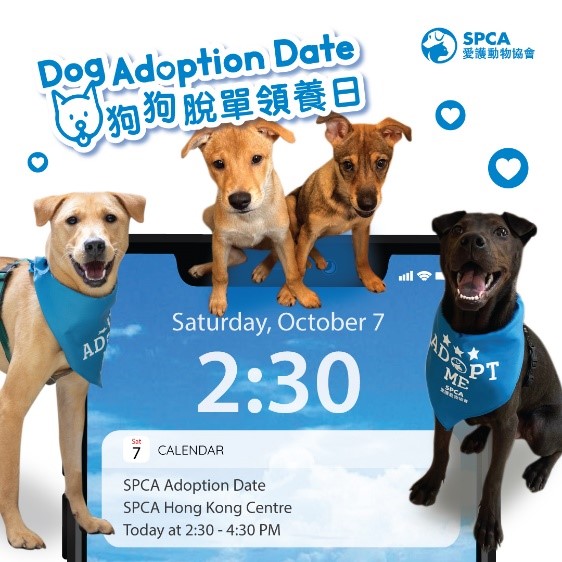 (Hong Kong, 28 September 2023) In celebration of World Animal Day, the Society for the Prevention of Cruelty to Animals (Hong Kong) ("the SPCA," "the Society") is delighted to announce the upcoming "Dog Adoption Date" event on 7 October, 2023 (Saturday). This adoption event aims to find lifelong human companions for mongrels rescued by the SPCA.
World Animal Day, celebrated every year on 4 October, serves as a reminder for individuals to cherish all living creatures while striving to improve animal welfare standards. Officially adopted in 1931, World Animal Day commemorates the legacy of Saint Francis, an Italian missionary renowned for his dedication to animal conservation. Over the years, World Animal Day has transcended national, racial, and religious boundaries, becoming a global celebration of animals around the world.
In celebration of World Animal Day, the SPCA will host the "Dog Adoption Date" on 7 October, dedicated to raising awareness on the number of adoptable mongrels without a home and promoting "Adopt, Don't Shop". Due to factors such as emigration and other circumstances, the number of people opting to adopt mongrels has sharply declined. Meanwhile, the number of rescued animals continues to rise. As a result, all three adoption centres run by the SPCA are currently at full capacity, with over 100 dogs eagerly waiting to find their forever homes. Our mongrels, particularly adult mongrels, face even fewer opportunities to find their forever homes despite possessing excellent qualities such as being calmer and easier to train.
Not only will the rescue dogs from the SPCA adoption centres be joining the "Dog Adoption Date" and interact with attendees outside their kennels, but participants will also have the chance to meet the "unseen" dogs - mongrels that are ready for adoption but currently still in foster care or other areas not accessible by visitors due to the lack of kennels across the SPCA adoption centres. This event will provide a unique opportunity for these deserving dogs to meet potential adopters in person and finally find their perfect match.
The SPCA extends a warm invitation to all dog lovers who are seeking their forever canine companions to join the event and support "Adopt, Don't Shop"!
"Dog Adoption Date" Event Details
Date: 7 October (Saturday)
Time: 2:30 pm to 4:30pm
Location: SPCA Wanchai Centre (5 Wan Shing Street, Wan Chai, Hong Kong)
RSVP: Free admission, no RSVP is required
Snapshot of some attending dogs:
Name: Max
PN:549740
Age: 4 MO
Sex: M
Personality: Food-driven, extroverted, loves exploring​
What's special: Loves kisses – born to be a diplomat!
---
Name: Hashie
PN:552907
Age: 5 MO
Sex: F
Personality: Shy, curious, active
What's special: Although she's an introvert, she is still a very curious pup.
---
Name: Egg Yolk
PN:538888
Age: 1 YR 1 MO
Sex: F
Personality: Affectionate, happy, energetic, has demonstrated with trainer at Pet Show
What's special: Enjoys spending time with humans, getting scratches or keeping herself busy with toys – especially the squeaky kind!
---
Name: Milo
PN:542627
Age: 9 MO
Sex: M
Personality: Friendly, calm, gentle, talkative
What's special: This beautiful tan giant is sociable and good with other dogs. Like his name suggests – he is smooth and sweet, just like the drink.
---
Name: Milk Tea
PN:553529
Age: 3 MO
Sex: F
Personality: Playful, gentle​
What's special: She is very close with the cats in her foster parent's family.
- End -