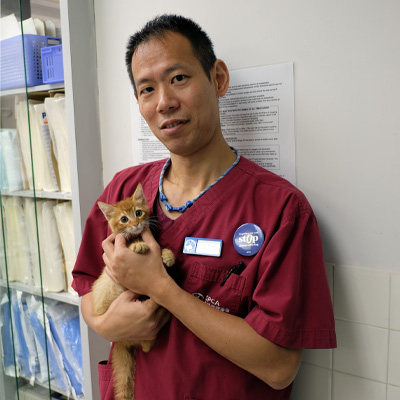 Sam Wong
Manager of Veterinary Nursing
ACADEMIC QUALIFICATION
Qualified Veterinary Nurse
Certificate IV in Veterinary Nursing, Animal Industries Resource Center, Australia
TAFE Certificate III in Animal Studies, Box Hill Institute, Australia
TAFE Certificate II in Animal Studies, Box Hill Institute, Australia
Bachelor of Science (BSc), Major in Psychology, University of Victoria, Canada
REASONS FOR WORKING AT THE SPCA (HK)
SPCA is a great organization. I enjoy working in a friendly environment instead of a competitive commercial environment and vet nursing is an incredibly rewarding job.
PETS
In the past I have had 5 cats & 2 hamsters but they have all passed away now. All adopted from the SPCA.
INTERESTS/HOBBIES
Playing football, ice hockey, basketball and swimming.