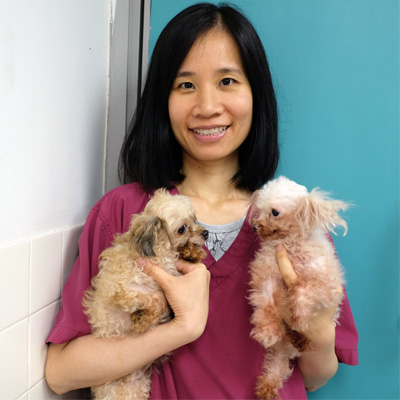 Maria Tsang
Vet Nurse Supervisor - Hang Hau
ACADEMIC QUALIFICATION
Qualified Veterinary Nurse
Certificate IV in Veterinary Nursing, Animal Industries Resource Center, Australia
TAFE Certificate III in Animal Studies, Box Hill Institution, Australia
TAFE Certificate II in Animal Studies, Box Hill Institution, Australia
REASONS FOR WORKING AT THE SPCA (HK)
I have loved animals since I was a kid, I am pleased and proud that I can work in SPCA, a well-established charity promoting animal welfare. I get to meet animals every day and it makes me so happy to see animals being taken care of and rehomed to loving families.
PETS
One noisy old lady mynah bird.
One swallow with a permanently damaged wing which can't fly but likes singing!
INTERESTS/HOBBIES
Traveling to different countries and reading.