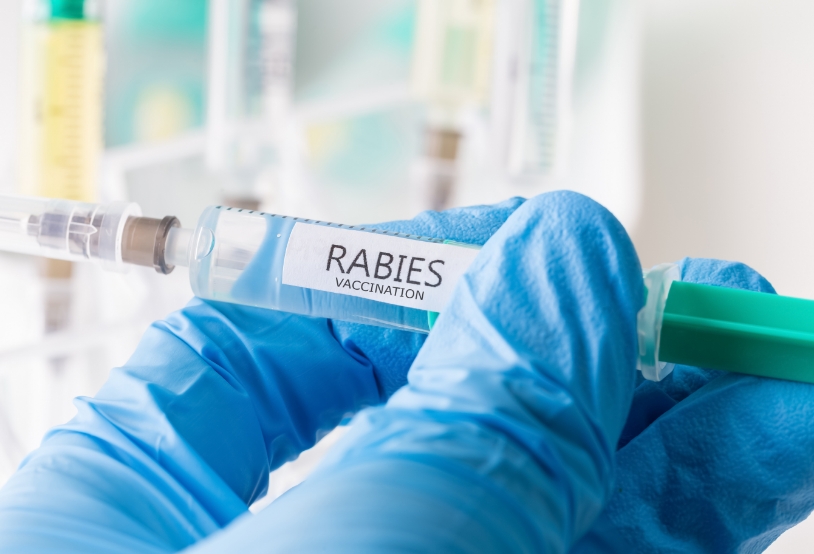 Rabies is a zoonotic disease (i.e. one that can be transmitted to humans from animals) that is caused by a virus. It can infect both domestic and wild mammals and is fatal once symptoms develop. Dogs infected with the virus are responsible for 99% of human deaths from rabies.
Hong Kong has been rabies-free for more than 30 years but 500 people a year die of the disease in mainland China.
The disease is spread from the saliva of infected animals with symptoms usually appearing three to eight weeks later. These symptoms start with flu-like effects – general discomfort, fever, headache – before progressing to acute pain, violent movements, uncontrolled excitement, depression, and terror of water (hydrophobia). Finally, there are periods of mania and lethargy, eventually leading to coma and then death. Unfortunately, there is no available test to diagnose rabies in humans before the onset of symptoms.
Rabies, though, is completely preventable. The first step is to avoid being bitten, particularly by unfamiliar dogs and wild animals. We can play our part in keeping Hong Kong rabies free by not buying pets if we do not know where they come from and making sure that we are responsible pet owners by vaccinating against rabies every three years.
IF YOU ARE BITTEN BY ANY ANIMAL:
Wash wounds thoroughly with soap, water and an antiseptic such as Betadine for at least 15 minutes to kill as much of the virus as possible.
Seek medical advice immediately.
Animal bites should be reported to any Accident and Emergency Department at Hong Kong government hospitals.
Even if you have been vaccinated against rabies, you may need to be vaccinated again after you are bitten.