Van Hung

"Furrever Missed" – brought to you by the SPCA's pet bereavement initiative, Never Too Old to Love. We present the first pet bereavement workshop for "World Mental Health Day" which consists of experience sharing, counselling and art jamming for pet owners who have experienced pet loss.
Art has long been used as a creative outlet to help express and process one's emotions, and the art jam portion of the workshop will be led by art instructor CC Wong.
The counselor from Comfort Care Concern Group will also be present to facilitate the small group sharing among the participants. It aims at helping them to work through the grief in loss of their beloved pets in a supportive atmosphere.
The session is free of charge for participants, though a refundable deposit is required to secure your spot in the workshop and will be refunded after deduction of administration fee* to participants on the day of the workshop.
Join us on the healing journey through the power of art.
*Terms and Conditions apply
**Complimentary snacks and drinks will be provided
***More workshops will be held in the coming months
---
CCCG
The Comfort Care Concern Group (CCCG) was established in 1987 as a non-profit making charitable organisation. Its aims are to promote comfort care to the terminally ill and their families, as well as the bereaved. CCCG is an agency member of The Hong Kong Council of Social Service and receives funding support from The Hong Kong Jockey Club Charities Trust and The Community Chest of Hong Kong.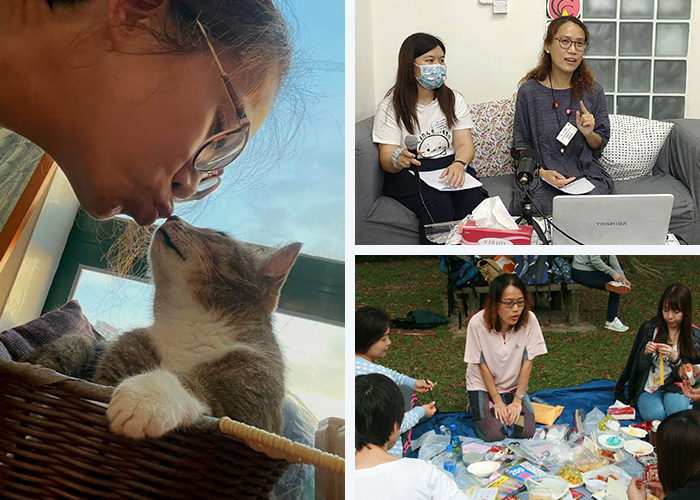 Ms. Heidi Tang
Counselor (Registered Social Worker), The Comfort Care Concern Group (CCCG)
In addition to the CCCG implementing an animal end-of-life and bereavement service in 2015, Heidi has her own experience with pet loss and bereavement, and understands the difficulties one faces after the loss of a beloved pet.
CCCG's programme aims to support pet owners as they head towards the end of their pet's life, as well as help them cope with their grief and adjust to life after their loss. Individual counseling, therapeutic groups, remembrance programme, and life and death education are included.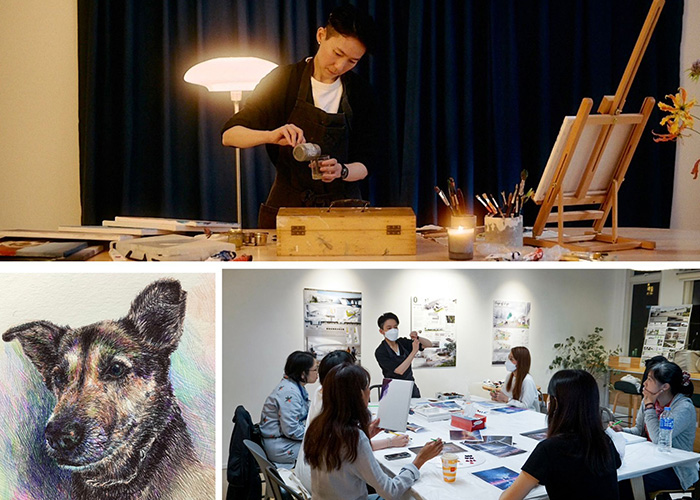 CC Wong
CC Wong graduated from UAL, Wimbledon College of Arts in 2012 with a BA(Hons) Fine Art major in painting, and is an experienced art instructor who has been running painting classes and workshops for almost 7 years.
Before her life as an art instructor, she worked in advertising as a digital artist and collaborated with many top creative directors and photographers to produce numerous award-winning advertisements, photographs and movies.CC likes to combine meditation with her paintings to strike a balance between mind, concept and technique. She helps uncover her students' artistic potential through close observation and interaction, and through the reflection of their artwork, guides them to better understand themselves during the painting progress.
Instagram: @cctheartcoach  @ccthepainter
---
Terms & Conditions:
The workshop will be conducted in Cantonese, and participants must be aged 18 or above.
To avoid any distractions and ensure all participants are able to fully concentrate during the session, no pets are allowed to join the workshop
The workshop is free of charge, but a deposit of HK$300 is required for reservation via e-payment (Visa/Master). Participants will be given a refund form after the workshop, after filling in the form, the deposit will be partially refunded (HK$270) via bank transfer within 3 weeks. 10% of the deposit (HK$30) will be charged for administrative purposes.
No refunds will be given to absentees, and the fee will be used to fund the medical and daily expenses of our animals in need.
Advance reservation is required for all participants, limited quota for each workshop will be offered on a first-come, first-served basis.
Priority will be given to pet owners who shared posts in the memorial wall of the SPCA's "Never Too Old to Love" pet bereavement website.
Participants who successfully registered for the workshop will receive a confirmation email within 2 working days, and they are required to settle the deposit within one week, otherwise it will be regarded as withdrawal from the workshop.
Please arrive 10 minutes prior to the start of the workshop.
The SPCA (HK) is entitled to use the images and videos taken in this event for publication and promotional use.
The SPCA (HK) reserves the right to cancel the workshops if the number of applications falls below the required minimum. In such case, we will contact affected participants 48 hours prior to the workshop and arrange a refund.
For enquiries, please call us at 2232 5443