The SPCA Animals on the Other Side of the World

Pet relocation has become a hot topic in recent years. Many SPCA adopters have moved with their beloved pets - once our homeless animals - to other countries and started a new life.
We spoke to four such pet owners who shared their determination to bring their beloved pets along with them on their adventures despite the many challenges. Also, read on to find out how their pets are doing on the other side of the globe.
Sam, Sarah &
The "Chu" Sisters
Three years ago, Chu Lui was trapped starving inside the infamous Stay Wonderland Animal Shelter when she was just a little puppy. Fortunately, this beautiful white mongrel was rescued by our Inspectors and eventually met her owners Sam and Sarah at the SPCA adoption centre after she turned one.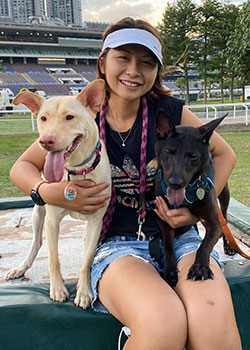 Penfold Park is the girls' favourite place to go when they are in Hong Kong.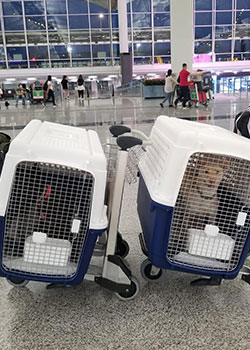 Chu Lui and Chu Yi Mui are ready to board.
Later on, the couple had the idea of emigrating to Leeds, the UK. The first thing they did was not to book a flight but to go back to the SPCA and adopt another dog. Sam explained, "In case Chu Lui couldn't make any friends in the UK, she would have this new dog to be her friend." In 2021, with Chu Lui's approval, the couple welcomed Chu Yi Mui, a black female mongrel, to the family.
Finding a pet-friendly apartment in the UK was the first and foremost task for the couple in preparing for the big move. After some serious discussions, Sarah decided to resign from her job in hospitality. She flew to the UK alone in April to look for a home that would suit their family of four, leaving Sam to take care of the girls in Hong Kong and crate-train them.
Travelling around Leeds, Sarah was amazed at how pet-friendly the UK is as a country. Most public transport such as buses, trains, the London Underground and cable cars welcome dogs on board. Some shops have water fountains and snack bowls at the entrance to pamper any pass-by dogs.
With such an animal-loving culture, one may think it is a piece of cake to find a pet-friendly apartment in the UK. In reality though, it can be a daunting task. Sarah recalled, "As soon as the estate agents heard that we had dogs, they said there were no suitable apartments for us. So I went through online rental listings by myself and contacted the landlords one by one to try my luck. After being rejected about 30 times, a landlord finally agreed to rent to us."
After four months of preparation in the UK, things were all set for the girls' arrival. When Sarah reunited with them, they kissed her and wagged their tails with excitement.
Sarah said, "I am so proud of them as they remained calm inside their crates during the 30-hour flight and car ride. Of course, they got their potty breaks every two hours during the ride. But once Sam put them back into their crates, they were very well-behaved. We must thank the SPCA's behaviour trainer who shared with us tips and tricks and taught us how to crate train the girls."
According to Sam, the training was not difficult but must be done step by step. "First, I put some of their favourite snacks and toys inside the crate to lure them in. Gradually they associated the crate with happy memories and this was how I got them to like the crate. While they focused on their treats, I levelled things up by closing the front door and upper lid of the crate. As the training progressed, I increased the length of time I left them in the crate and got out of their sight."
Recently in the UK, a record-setting heatwave struck the country, leading to a rise in heat-related deaths and illnesses. Without air-conditioning in public places like restaurants, shopping malls and buses, Sarah also fell victim to the scorching heat and suffered from heatstroke.
But it wasn't too bad for the two girls. Sarah explained, "The heatwave only lasted for a few days and we often had our fans on at home to keep the girls cool. Also, it is often quite chilly in the morning and at night so there is no problem for the girls to enjoy some outdoor activities in summer. They enjoy running in parks so much as they are spacious and similar to Penfold Park, which is the girls' favourite spot in Hong Kong."
Speaking of the two pets running freely, Sarah recalled the first day when she met Chu Lui at the SPCA adoption centre. "She had been trapped in Stay Wonderland Animal Shelter when she was little. The abuse made her so anxious that she refused to take a walk even just outside the SPCA. Now she runs happily without fear. It just shows how far she has come."
Sadly, not all pets are as lucky as Chu Lui and Chu Yi Mui. Some owners have chosen to abandon their pets as the procedures for pet relocation are often too complicated and costly; some have handed their pets over to their friends or relatives staying in Hong Kong because they don't want to bring along the animals to a new place where they have to face a future of uncertainty.
Nevertheless, Sam and Sarah believe that when there is a will, there is a way - no obstacles cannot be overcome if an owner is determined to relocate with their pets.
"Our pet relocation company shouldered the burden of handling the complicated procedures and paperwork for us. Their service cost a five-figure sum. That wasn't a huge amount compared to the total expenditure we spent on the entire journey. And for those who plan to emigrate, they should take this into account."
"And I know one owner who had to abandon his pet because it was too old and sick to fly. Well, how about travelling by sea? On the other hand, we have the greatest respect for an owner who stays in Hong Kong alone to take care of his senior pet as he doesn't want it to die alone. It is only when it passes away one day that he will join his family overseas," Sam said.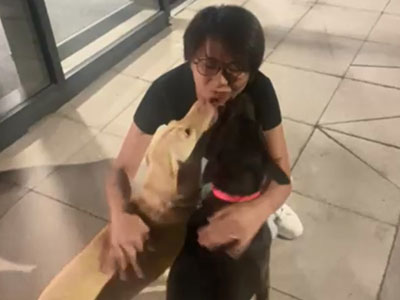 After four months apart, Chu Lui and Chu Yi Mui joyfully reunite with Sarah with hugs and kisses.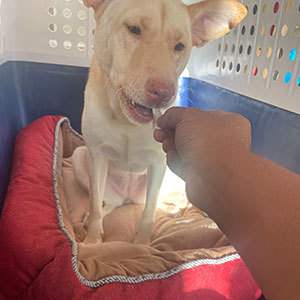 Snacks are essential for crate training.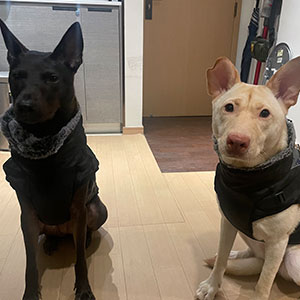 Sam hand-picks some winter clothes for the girls.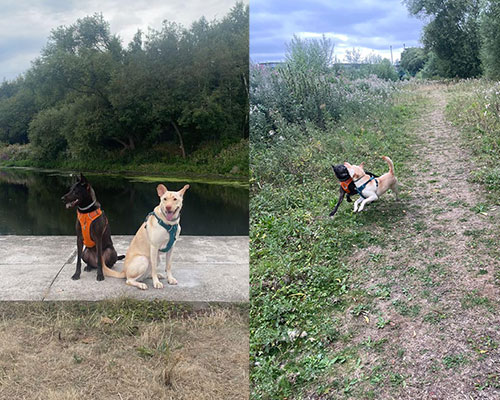 This is one of Chu Lui and Chu Yi Mui's favourite spots in the UK.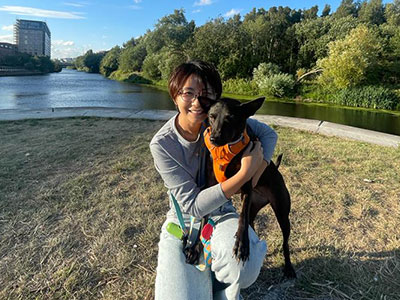 Chu Mum and Chu Yi Mui have become inseparable after months of separation.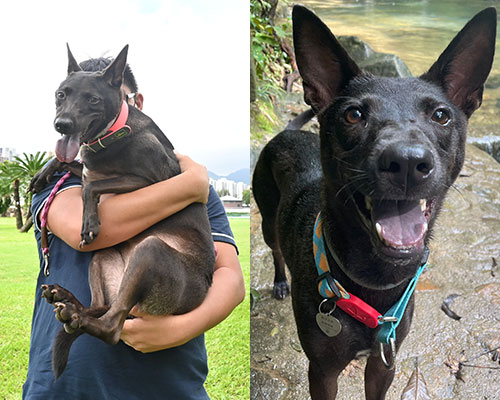 Chu Yi Mui is tired after running in Penfold Park and demands to be held by Sam.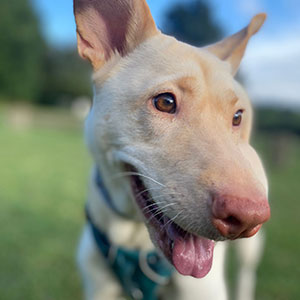 Chu Lui always has a smile on her face whenever Sam and Sarah are around.
The girls fall into a deep sleep in their new beds.
The Wonderland Tragedy
In 2019, nearly 100 malnourished animals were found in Stray Wonderland Animal Shelter in Ta Kwu Ling, Yuen Long. The floor was covered with piles of garbage and faeces. At least 20 dog and cat carcasses were discovered at the scene. Some had already decomposed, leaving only bones and pelts. In total, more than 30 animals were found dead at the facility. Fortunately, Chu Lui was rescued by the SPCA's Inspectors and later adopted by Sam and Sarah.
Po Po & Iris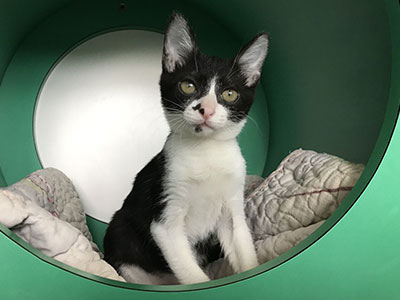 This is Iris' room when she stays at the SPCA while waiting for a forever home.
Tuxedo cat Iris was accidentally trapped in a vehicle engine when she was less than two months old. Fortunately, she was rescued by an SPCA's Inspector and met her owner Po Po in November 2019.
Iris is the apple of Po Po's eyes. When the family decided to move to the UK to start a new life, Iris topped their emigration checklist. Together, they have been living in the pet-friendly country for more than six months now.
When Iris first arrived in the UK, she surprised Po Po with her high level of adaptability, which is not common among cats, especially sensitive ones. "On the first night, Iris had no trouble sleeping, drinking, defecating or sleeping. She did much better than me," Po Po laughed.
In winter, Iris is usually smart to find ways to keep herself warm. "She will hide herself under the covers or sit on my lap as I watch TV. I never saw this clingy side of her when we were in Hong Kong. Actually, apartments here are built to withstand the cold in winter so we sometimes don't even need the heaters on."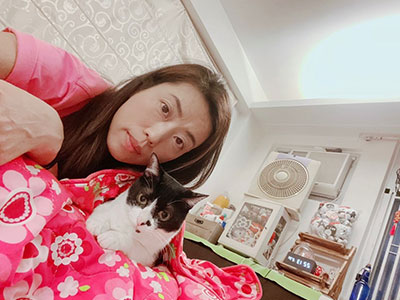 Po Po treats Iris like her daughter.
Moving abroad with one's pet is undeniably a trying process. From snatching a plane ticket for the pet to finding a pet-friendly apartment, it is full of obstacles every step of the way. A concerned friend once questioned Po Po's decision to take Iris with her to the UK as most landlords are not keen to rent to people with pets.
"No parents would forsake their children just because they bring challenges to their plans," said Po Po. "Iris is our daughter whom we love dearly. There is no reason to leave her behind. We did spend a lot of time flat-hunting but we finally got this newly built pet-friendly apartment which combines comfort and convenience. The rent is also much cheaper than the other listings we saw. My husband keeps saying that he is very grateful to have Iris with us as she kept us going until we found this beautiful apartment that exceeded all our expectations."
For those who plan to move to the UK with their pets, here is some good news. In June, the UK government unveiled plans to introduce a Renters' Reform Bill, which, if passed, will ensure that landlords cannot withhold consent when a tenant requests to have a pet in their home, unless the landlords can show good reason for refusing permission.
Apart from flat-hunting, Po Po and her husband were also at pains to get a plane ticket for Iris so that she could fly in-cabin and sit next to Po Po. "Our original plan was to depart as soon as possible but it was so difficult to get Iris a ticket due to the small seating capacity for pets. But no matter what happens, Iris must come first in our lives. So, we waited until we got her a ticket. Then we bought our own. We must land in the UK with her at the same time to ensure that we could take care of her along the way."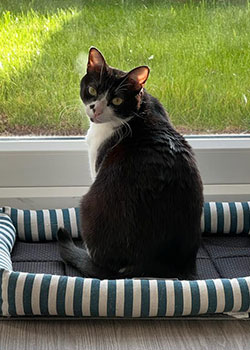 Iris loves sitting here in her new home and enjoys the view.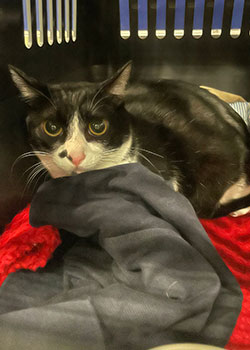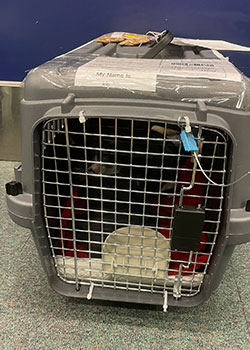 Po Po puts Iris' favourite stuffed toy inside the crate to keep her calm.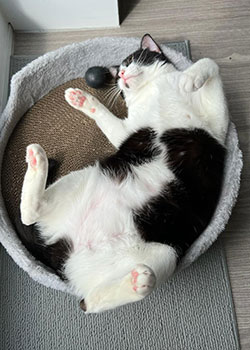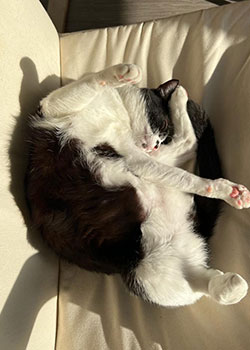 Iris' sleeping position suggests how much she enjoys her new life and new home.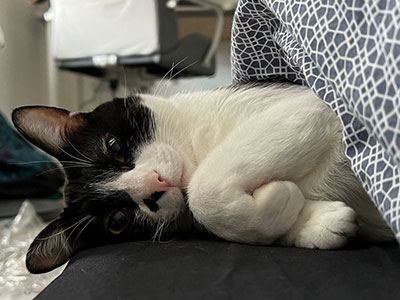 During the cold winter in the UK, Iris gets clingy and likes to sleep with Po Po to stay warm.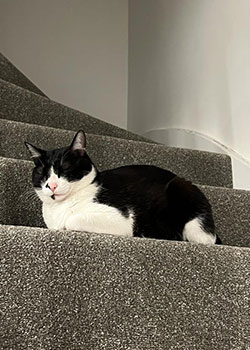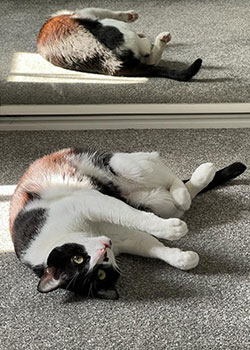 Despite the delay and hassle, Po Po said she had no regrets taking Iris with her to the UK. "The whole point of adopting a pet is to give them a home. Now I have found a new home. Why would I not include it? Also, my husband needs to work a lot. If it wasn't for Iris who accompanied me all this time, I would have felt very lonely at the start of my new life here."
Tina & Autumn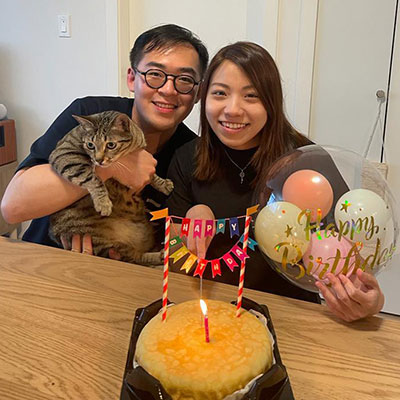 Autumn celebrates Tina's birthday.
Autumn was cruelly abandoned in a tied-up garbage bag when he was less than a month old. Luckily, a compassionate pedestrian discovered him and called the SPCA's Inspector for help. In October 2018, Autumn was adopted by Tina. Three years later, the whole family moved to Vancouver, Canada.
Known for being highly territorial, cats are often stressed out and confused when they are removed from their comfort zone. Autumn was no exception. But Tina reckons that the biggest fear of a pet is not a change in environment, but the possibility of being abandoned. This belief has apparently been proven right by Autumn's experience in Vancouver.
The first few days after Autumn arrived at his new home in Vancouver, he was so frightened that he hid himself in a room all day with no intention to come out at all. However, Tina decided that as long as his diet and stool remained normal, she would stay patient and let him adapt to the new place at his own pace. After a month, Autumn started to feel secure in his new home and comfortably slept anywhere he perceived as a good spot.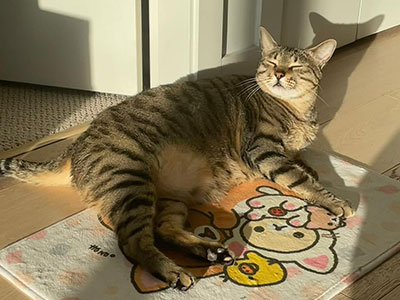 Autumn loves sunbathing.
A year later, Tina needed to move house again. When the movers came to move his cat bed and the furniture out of the house, Autumn was petrified. He started to breathe heavily with his tongue sticking out. "We were terrified and immediately took him to a quiet room. We stayed there, reassuring him that we were not abandoning him." Soon after, Autumn calmed down. This time it didn't take long for him to adapt to the new home.
In Canada, Autumn gets to enjoy a much bigger living space than in Hong Kong. With a built-in stairwell at home, he is motivated to go up and down the house and do more exercise. For Tina, she can finally spend some quality time with Autumn in a country that attaches importance to work-life balance.
Tina believes that a pet can overcome any obstacle as long as its owner stands by its side, which is why she insisted on flying with Autumn in the same cabin so that she could take care of him throughout the flight. "However, it wasn't easy to book a ticket for him as the plane only had four seats for pets. We tried to book the earliest tickets but to no avail. Although we could have chosen to fly without Autumn as further delay would mean higher ticket prices, we chose to wait and fly together with him," Tina said.
Before they boarded, Tina worked hard to help Autumn get used to its new airline-compliant carrier. "We put his favourite snacks in the carrier to help him build some fond memories with it. Also, when we took him out for paperwork and vaccination and to get microchipped, we put him in the new carrier so that he could get used to travelling in it as soon as possible."
"We brought a pet water bottle, dry food and potty pads on board in case he needed them. We also had snacks on hand that could hydrate him if he refused to drink water." As it turned out, Autumn refused to eat and drink for 24 hours, but he remained calm and stable during the flight.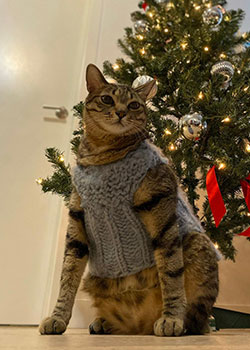 Do you like my little sweater?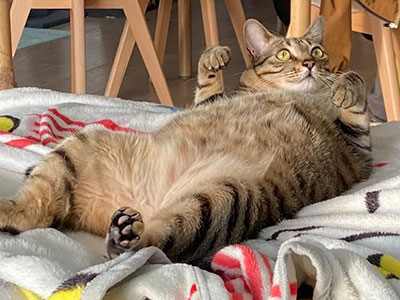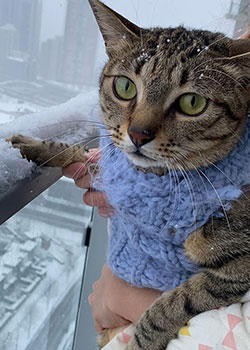 Autumn feels the snow for the first time.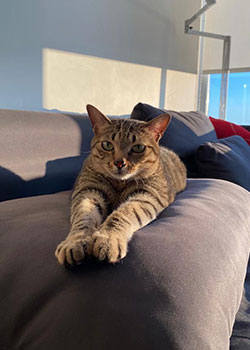 Autumn is enjoying life in Canada.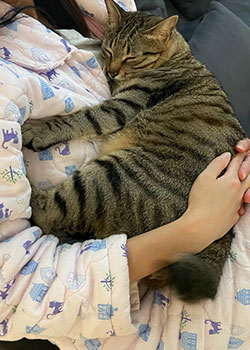 Autumn always stays close to Tina.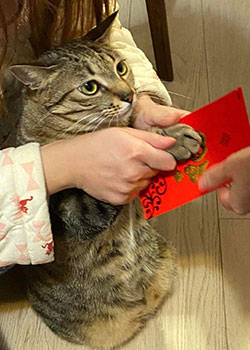 Autumn has a blast during the Chines New Year.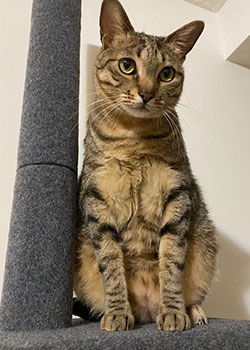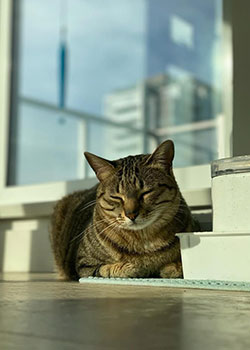 To help Autumn cope with the cold weather in Canada, Tina built a cat bed using carton boxes and a soft mattress. In such an exclusive bed, he felt safe sleeping with some of his favourite toys.
To Tina, keeping a pet is like a marriage, a covenant for life. She said, "I will grow old with Autumn and accompany him until the last moment of his life. I hope that other owners will not give up on their pets so easily as it feels so lonely and helpless not to have a family."
"Autumn has already lost his mom. I don't want him to go through the same kind of pain with me. Besides, I had been quarantined at Penny's Bay for seven days before. I missed Autumn so much at that time. If anyone asked me to leave him again, I would not accept it," Tina said.
Ling & Coffee
While some owners abandon their pets before emigration, Ling visited the SPCA to adopt Coffee before she departed for Europe. "I always thought that Europe was a good place for medium to large-sized dogs to live. So, when I had the idea of moving to Europe, I adopted Coffee from the SPCA and took him to Europe with me, as well as my other two cats that were also adopted from the SPCA," Ling said.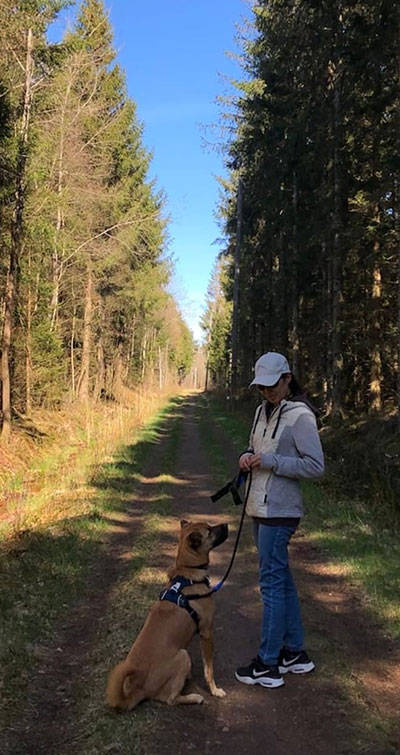 Ling and Coffee are each other's greatest companions in life.
Coffee is an anxious dog. When she first arrived in Europe, she couldn't make sense of the smell in the new environment, the unfamiliar language and people's tone of voice, all of which were markedly different from what she was used to. It was so overwhelming that she had to hide herself under Ling's bed.
Ling recalled, "She got frightened when she heard a sudden noise or a normal conversation between two people. When I took her out for a walk, she was always scared to go a bit farther."
Ling gave Coffee a new bed as her safe spot but she bit it to pieces and would rather sleep inside her crate or beside Ling's bed. "I have never seen her being so emotional before. I reckoned she was very nervous when she first arrived at our new home," said Ling. To help Coffee adapt to her life in Europe, Ling often took her out to explore the neighbourhood. After merely a month, Coffee felt at home.
Ling is very pleased that Coffee now lives in a country where people highly value animal welfare and protection. "By law, dog owners here must take their dogs out for a walk at least every six hours. The aim of the law is to prevent dogs from being left alone at home without care for a long period of time during the day. You can see dog day care centres and pet sitters are just around the corner to help owners with busy work schedules," Ling said.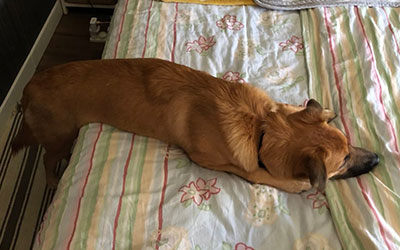 When Coffee feels insecure, she will lie on Ling's bed like this for comfort.
Ling also enjoys her newfound work-life balance lifestyle which enables her to spend more time with Coffee. "I worked in healthcare in Hong Kong. I was always snowed under with work and had no time to breathe. Now I can teach online classes at home where Coffee can see me all the time. Also, the country I am living in has adopted a policy to improve work-life balance for its citizens limiting the maximum working hours to seven hours per day."
Although heatwaves strike Europe every summer, Ling is not worried about any negative impact of the scorching heat on Coffee in the future. "We have lots of wet grass here to insulate the heat coming from the ground. This can protect dogs' paws from getting burnt. Dogs are happy when they can run freely on the grass. That's why I take Coffee out three times a day for a walk. In the hot days, I would give her more water and I have already bought winter clothes for her to keep her warm."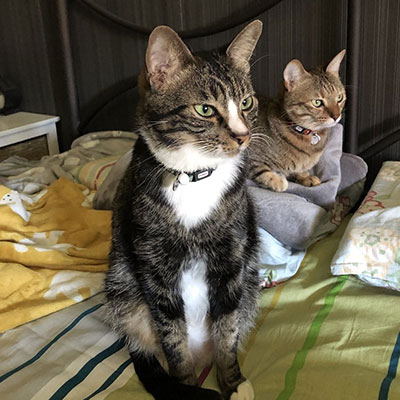 These two cats have been adopted from the SPCA and moved to Europe with Ling and Coffee.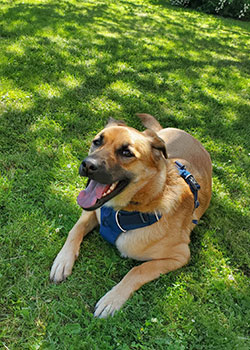 There is wet grass everywhere in Europe that can insulate heat from the ground.
Being able to work from home in Europe, Ling gets to spend much quality time with Coffee.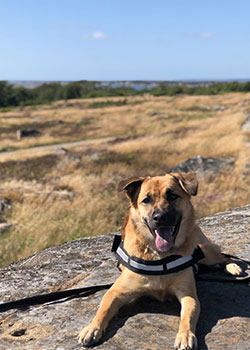 It has been almost a year since Ling moved to Europe. She feels gratified every time when she sees a smile on Coffee's face. "The average lifespan of a dog is no less than 10 years. There can be a lot of changes in the owner's life in a decade. People should bear this in mind before they decide to keep a pet. For me, no matter how life changes, my commitment to Coffee will not change."
The SPCA is glad that animals that used to stay at our centre looking for a forever home have gone to the other side of the globe to start a new life with their owners. We are also very grateful to the adoptive families for showing their unwavering commitment to their pets amid all the challenges in life.