Van Hung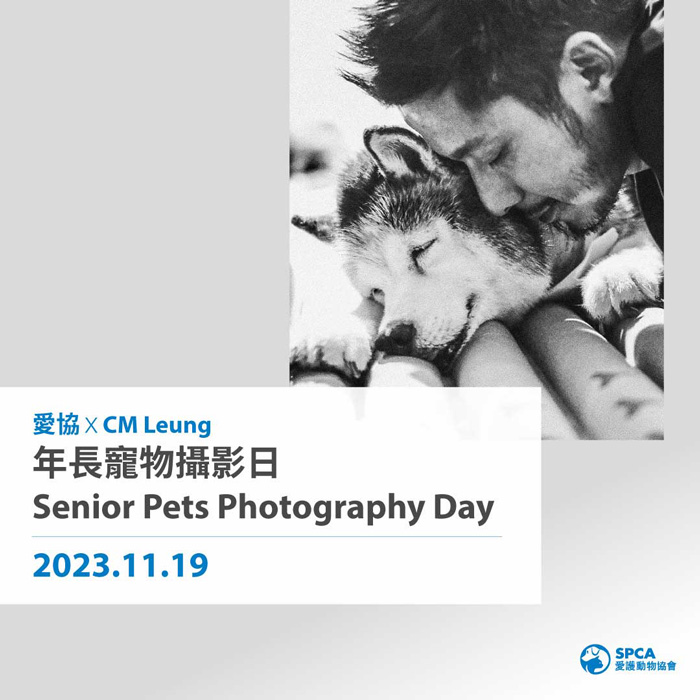 Session 1: Senior Pets Photography Day
As a proud owner of a 16-year-old chocolate Labrador named Tasha, photographer CM Leung knows the importance of capturing the timeless moments of our beloved companions in their golden years. With his compassionate approach and artistic vision, he will skillfully preserve the cherished memories of your senior pets aged 13 years and above, allowing you to treasure those special moments forever and family portraits together.
CM has years of experience photographing senior pets over the years and has especially dedicated this special day for both SPCA members and non-members. Kindly note, priority will be given according to the seniority of the pet's age and urgency for its medical condition.
---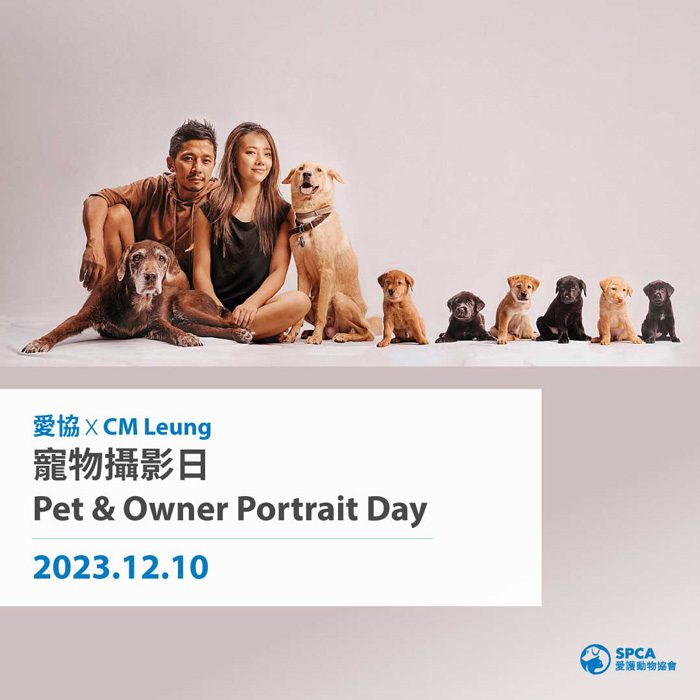 Session 2: Pet & Owner Portrait Day
CM's Pet & Owner Portrait sessions are hard to come by and often sold out. Here's your chance to capture timeless portrait photos of you and your pets. His compassionate approach and artistic vision will create keepsakes that will last a lifetime. Join CM's Pet & Owner Portrait Day now and preserve the best moments of your life together.
---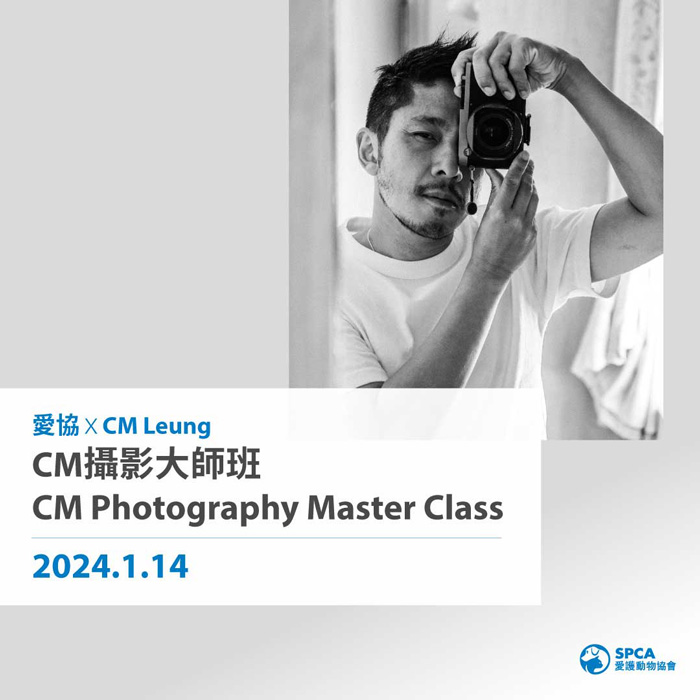 Session 3: CM Photography Masterclass
Professional photographer CM will teach you all the tricks of photographing pets using smartphones or other cameras, giving you the best chance of capturing every moment of your beloved pet perfectly. Don't miss out on this unique opportunity to learn from a renowned photographer and create treasured memories that will last a lifetime.
The Masterclass is designed for:
Dog Owners
Rescue dog parents and senior pet owners, or dogs with medical conditions will be prioritised
---
Terms & Conditions:
Due to time, space and photography constraints, the number of guests and pets may be subject to final approval by CM Leung. Should there be any concerns, we will contact you based on the information you provide in the form.
In the event that we are unable to provide you with a photo session due to the number of people and pets specified in your form, we will cancel your registration and issue a full refund.
During the photography session, please monitor the safety of your pet. Kindly ensure your pet's temperament, and health are suitable for the photography session.
Capture heartwarming moments with your beloved pet and keep them as precious memories forever!
CM Leung, the talented photographer behind CM Gallery, is not only known for his exceptional wedding photography but also his extensive experience in pet photography. CM currently has three beautiful dogs of his own; Sophie, a 2-year-old mongrel, Sophie's daughter, Lisa, and Tasha, a 16-year-old chocolate Labrador.
As a proud pet owner, CM understands the importance of cherishing every moment with our furry companions. CM noticed that many pet owners do not take the opportunity to capture these precious moments during their short time with us. In recognition of the joy and companionship that dogs bring to our lives, we are thrilled to announce that we will be hosting two pet photography sessions, Senior Pets Photography Day and Pet & Owner Portrait Day, and a Masterclass hosted by CM himself. Pet owners will have the opportunity to capture lasting memories with their beloved pets through professional photography sessions and gain insights and techniques of photographing pets at CM's Masterclass.
The first session, Senior Pets Photography Day, is a unique opportunity to capture stunning family portraits with your senior furry companions who are over 13-years-old. Get digital photos that you can cherish forever before it is too late!
The second session will feature a Pet & Owner Portrait Day, where pet owners will receive breathtaking photos of their bond with their fur friends.
The last and final session, which is a Masterclass hosted by CM, is designed for pet photography enthusiasts to learn CM's expert tips and tricks to capture the best shots of your pets.
Don't miss out on this incredible opportunity! Register now to preserve your cherished memories with your beloved pets.
If you have any enquiries, please feel free to email us at community@spca.org.hk or call us at 2593 5453.
Not a member yet?  Join Us